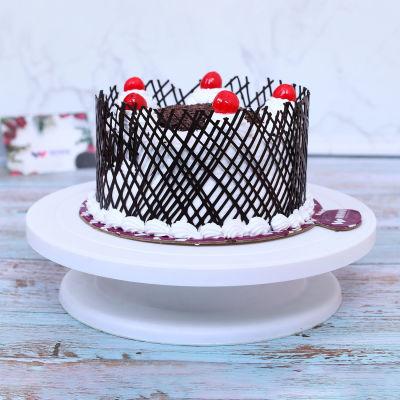 No one was ever born perfect. No task was ever done without making mistakes. Nothing great could ever be achieved in the first attempt itself. Thus it is okay to stumble down, lose the path and make mistakes. It is perfectly alright to fail. What matters is the desire to improve, to continue making efforts, and get it done alright. Remember "Practice makes a man perfect." If you are someone who loves baking and baking makes you feel good but you are just not getting it right so hang in there and you will get better at it. No matter how many mistakes you make, just don't give up on baking, keep learning, keep practicing and keep on experimenting. Here are a few baking tips which will help you become a better baker and bless you with delicious cakes to be served. So, if you are about to order or send cakes online to your loved ones, look at the tips we are going to share below!
1. Try and understand the ingredients you are working with and understanding the science of baking, this will create a whole lot of difference for you.
2. The baking powder has baking soda and an acid to reacts with itself, however, the baking soda being alkaline in nature needs an acidic ingredient going in the recipe to react with it. So, use the baking soda only in a recipe that has an acid going in it otherwise you will have a horrible soapy taste.
3. Using granulated sugar in your cake is not a good idea because the big chunks do not melt easily which gives an unwanted crunch to your cake
4. Make sure that all the ingredients that you are using for your recipe are at room temperature, especially the ones that you store in the refrigerator. For example, Eggs, butter, and milk.
5. The batter should neither be too hard nor completely melted, it must have a structure that is soft to touch.
6. Be very precise with your measurements. Remember baking is a science where you have to be very particular with the number of ingredients being used.
7. Get a nice set of measuring cups. Use a spoon to transfer the ingredients to the measuring spoon. Do not pack the flour with your hands, use the back of the spoon to level it. Do not press it with your hands or else you will end up taking up more than the required amount of flour.
8. There can be nothing more disappointing than a cake that gets stuck and doesn't come out of your pan, therefore make sure to prep your pan well. Use a pastry brush or your fingers to brush your pan well with butter or vegetable oil.
9. Always use parchment paper to line your pan because butter paper is not always that resistant and does not hold the shape in the oven.
10. Whenever you are baking with eggs, always add one at a time because when you add all of them altogether, You run the risk of skipping the batter. So add one egg, mix it well and then add the other.
11. Never over mix, while you are combining your wet and dry ingredients. Use a spatula to cut in the middle of the mixture, and rotate it to bring the mixture to the top. Repeat it until the ingredients get mixed up well. This is called the cut and fold technique.
12. Another thing to remember is to always preheat the oven. Time and temperature affect the texture and flavor of the cake. The time mentioned in your recipe is always indicative. It may take some extra or some less time but please don't keep on opening the oven in between as this will disturb the baking process.
These were some of the best baking tips to be kept in mind while baking your favorite cake. Next time you enter the kitchen, follow these tips to bake your cake, and the moment you pull your cake out of the oven it would be just as you wanted it to be.
If somehow you could not manage to bake your cake well or you feel too lazy to do all the labor you can simply order cake online and enjoy the delicacy.
Also read about:
Tips to Crack NEET Exam 2021
SEO Made Simple Get the Best Keyword Rankings with These Resulting Tips
Why Homeowners Love High Contrast Flooring